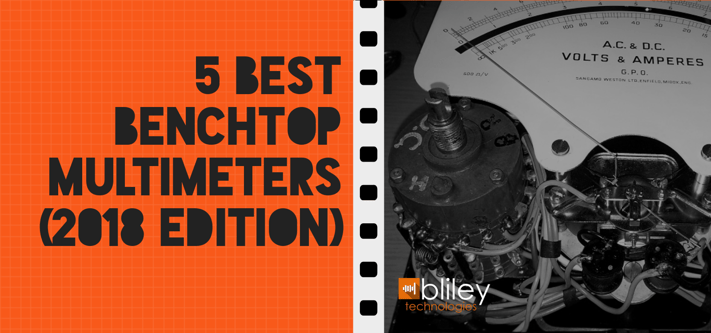 Go into any electronics lab and you will undoubtably see a bench top multimeter. The humble benchtop digital multimeter is a staple of any lane and is one of the most fundamental and highly used pieces of test equipment for electronic design.
**Disclosure: This post contains affiliate links at no additional cost to you.
As the name implies, the digital multimeter is useful for a wide range of measurements and tests. Bench top digital multimeters, or DMMs, can be used to to make the basic (Ohm's Law) measurements:
Measure resistance
Measure voltage
Measure current
However, some benchtop multimeters can also be used for more advanced measurements such as:
Capacitance
Inductance
Conductance
Decibels
Frequency
Duty cycle
Diode drop
While multimeters come in many shapes and sizes (like this epic handheld multimeter from Fluke) this post is going to focus on larger, more feature rich, benchtop multimeters. We've scoured through dozens of different models and read through even more reviews (so you don't have to) to bring our list of the top 5 digital benchtop multimeters. Without further ado, here is our list of the best digital multimeters available on the market today.
5 Best Rated Benchtop Digital Multimeters to Upgrade your Electronics Lab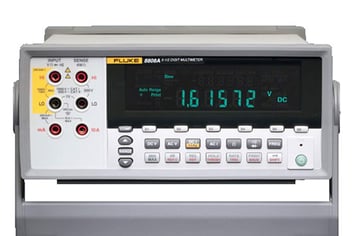 Fluke is a trusted brand that has build a reputation of high quality and long lasting test equipment. This Fluke bench top multimeter would quickly become a workhorse of any electronics lab. The Fluke 8808A millimeter has a broad range of functions, measuring volts, ohms and amps with a basic V dc accuracy of 0.015 %.
It is remarkably easy to use, even by unskilled operators, because it makes the measurements you perform most often extremely easy and fast to do. Six setup buttons on the 8808A front panel operate like a car radio's station presets. Simply set up the meter for a common measurement, then press shift followed by a setup button (S1 to S6) to save the setup. Now each time you perform that measurement, you simply press the appropriate setup key. It's that easy. The setup buttons eliminate the need to follow complex work instruction sheets. This fluke millimeter has a 5.5 digit resolution with dual display and a hi/lo limit compare for pass/fail testing. It uses a 2x4 ohms 4-wire measurement technique.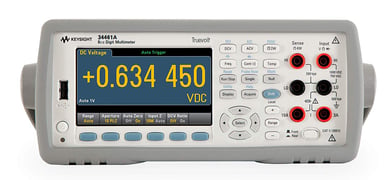 Keysight is another heavyweight in the test and measurement industry. While Keysight equipement commands a premium over the other bench multimeters on our list, many large technology companies trust their Keysight for test and measurement.
The 34461A digital multimeter serves as Keysight's replacement for the aging 34461A bench digital multimeter. The 34461A features everything you'd expect from the industry-standard 34401A with new display capabilities. The solid performance of this multimeter allows you to spend time focused on your design instead of worrying about your measurements
-Patented analog-to-digital converter enables metrology grade architecture
-Measure your real-world signals, not instrument error
-Designed by the same team of engineers as the 34401A
-BenchVue enabled. Control your DMM from your PC to view and capture your data easily.
Siglent doesn't have the same brand recognition or reputation as Keysight or Fluke in the test and measurement space, but don't write them off just yet! This
reletively new entrant into the test and measurement industry got its start back in 2002 by researching and developing low cost, highly capable digital oscillascopes.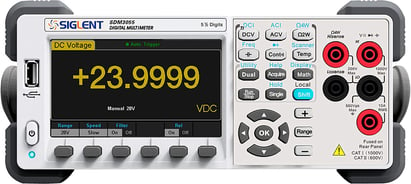 But they didn't stop there, quickly branching into other test equipment including digital multimeters. Siglent prides itself in being the "best value in test and measurement." Their SDM3055 bench top DMM is no exception to this mantra. This full featured multimeter comes in at a significantly lower cost than the first two DMMs on our list while still delivering many of the same features.

- Real 5½ digits readings resolution
- Up to 150 rdgs/s measurement speed
- True-RMS AC Voltage and AC Current measuring
- 1 Gb Nand flash size, Mass storage configuration files and data files
- Built-in cold terminal compensation for thermocouple
As an added bonus, the interface is very similar to the Keysight models to lessen the learning curve.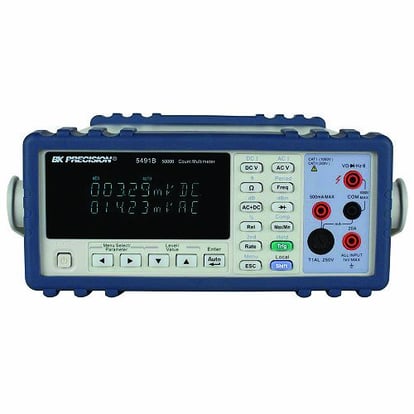 B&K Precision falls into a similar category as Siglent. They are both not as well known as Fluke or Keysight, but offer some compelling peices of equipement for an attractive price. The B&K Precision 5491B bench top digital multimeter or (bench top DMM) is a true RMS, auto-ranging meter for measuring current, voltage, resistance, and frequency in electrical testing and manufacturing applications and for teaching electrical engineering principles. The meter displays the present measurement or the highest or lowest reading in a session, for tracking sudden changes in readings. The meter can also express AC and DC voltage in decibels (dB), the power ratio of decibels to milliwatts (dBm), and percent of the reading relative to a preset reference value.
The relative mode stores a reading in memory to use as a zero point for subsequent readings so that multiple readings can be compared. The dual LCD displays two readings at once, such as voltage and resistance. A hold function keeps a reading on the display, even after the meter has been disconnected. The user has a choice of slow, medium, or fast measurement rate.
The USB and RS-232 interfaces connect the meter to a computer for data transfer and remote operation (cables not included). While the B&K 5491B doesn't have quite the same review rating as the Siglent SDM3055, the customer feedback is generally positive and B&K seems to be responsive to any complaints or issues.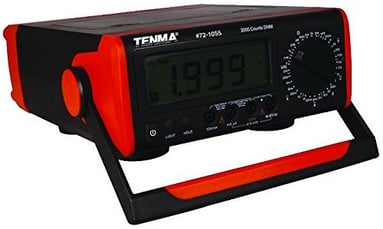 Tenma is not a well known brand, but if you're looking for a decent bench top multimeter, they should be considered.
Their 72-1055 bench DMM is not packed with the same features as the other DMMs on our list, but for the price, this is a good all around multimeter. The people who have given Tenma a try have praised its easy to read backlit display, value pricing, and small surprises like a storage compartment on the top of the unit. This bench top multimeter also has the ability to be powered with either AC power or batteries, making it an exepensive choice for portable testing.
The Tenma 7201055 DMM is ideal for an education setting, a hobbyist, and any service bench. This unit measures AC/DC voltage and current, resistance, capacitance, frequency, transistor hFE and temperature. It also provides diode and audible continuity test functions.
---
Electronic Design BONUS Content:
Are you in the middle of an RF design project? Make sure to spend adequate time peer reviewing your design. Peer reviews are an effective way at catching defects early in the design process before they become difficult and expensive to fix! You can learn more about holding effective design reviews in this popular post!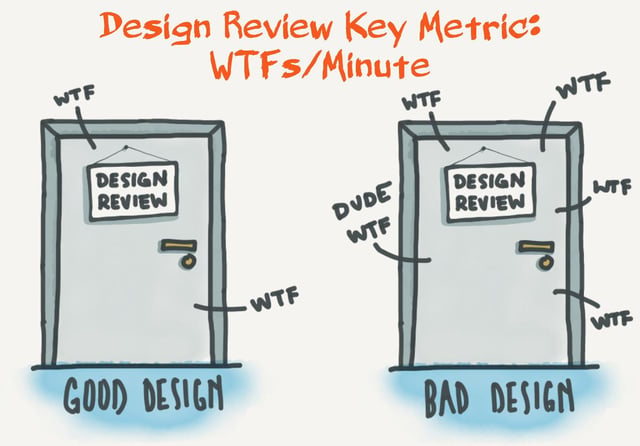 **Full Disclosure: Some of the links above are affiliate links, meaning, at no additional cost to you, we will earn a small commission in you click through and make a purchase.