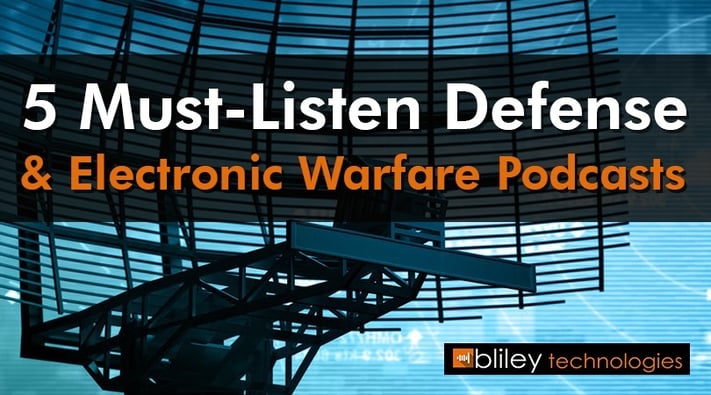 Podcasts have never been more popular. Whether you are commuting, in the gym or just relaxing at home, they're a fantastic way to stay on top of personal interests as well as developments in your industry. For engineers and project managers working in the RF industry, some of the biggest growth is expected to occur in the field electronic warfare, which is slated to become a nearly $20 billion industry by 2026. To help you gain a sense of where the electronic warfare industry and the defense sector as a whole are headed in the near and long-term, we've compiled a list of some of the best podcasts relating to these topics.
5 Defense Industry & Electronic Warfare Podcasts Worth a Listen
1. Voices from DARPA
The official podcast of the Defense Advanced Research Projects Agency (DARPA), the most prestigious military Research & Development agency of the US government. Whenever there is a major breakthrough in defense technology, there is a good chance that DARPA played a role in its development. "The goal of Voices from DARPA" according to the website, "is to share with listeners some of the institutional know-how, vision, process, and history that together make the 'secret sauce' DARPA has been adding to the nation's innovation ecosystem for nearly 60 years". This podcast provides the listener with a comprehensive understanding of what's happening at the forefront of defense tech innovation, including electronic warfare.
2. National Defense Magazine Podcast
National Defense is the official publication of the National Defense Industrial Association (NDIA). In 2005, NDIA launched a podcast to complement their magazine, and it's been going strong ever since. This podcast covers a wide variety of defense-related topics and helps the listener to understand what technologies and strategic initiatives the Department of Defense is focusing on. This past summer National Defense reported that the DoD is placing huge importance on regaining superiority in electronic warfare capabilities, a domain where potential adversaries have made significant developments in recent years. In light of this, you can expect more episodes in the near future about electronic warfare R&D and acquisitions. Definitely one to subscribe to.
3. Defense & Aerospace Report
Defense & Aerospace Report is comprised of weekly podcasts featuring news and interviews with experts and decision-makers in the defense and aerospace industries, as well as government leaders. This is a good podcast for getting a feel for what's happening in the defense and aerospace industries and for getting insider tips on where research, development, and investment are being directed, including specialized domains like electronic warfare.
4. War on the Rocks Podcast
War on the Rocks is a popular and highly regarded podcast covering all things related to military and global geopolitical affairs. While not specifically focused on electronic warfare or the defense industry, it is still worth tuning in, because it helps the listener understand not just what's happening in the world of defense and international relations, but why. Some episodes focus on specific military technologies while others feature talks with foreign policy insiders and defense experts who offer a 30,000-ft. view of the international security environment and what the future might hold. Highly recommended.
5. Defense Connect
This podcast focuses on the security environment and defense industry developments in Australia and the Indo-Pacific region. Many countries in this part of the world are racing to modernize and improve their electronic warfare capabilities. The increasing demand for electronic warfare innovation and solutions is in many ways driven by events unfolding in this region. Regardless of what continent RF engineers and defense companies are located, this is one podcast worth tuning in to.
How to take your military, defense, and EW applications further...
Bliley is proud to provide our armed forces and the defense sector with the best in electronic warfare and aerospace engineering solutions. Our Poseidon 2 OCXO provides best-in-class low phase noise & low-g performance for many military, defense, and EW applications. Instantly download the datasheet below to learn more about how Poseidon 2 can take your application further!