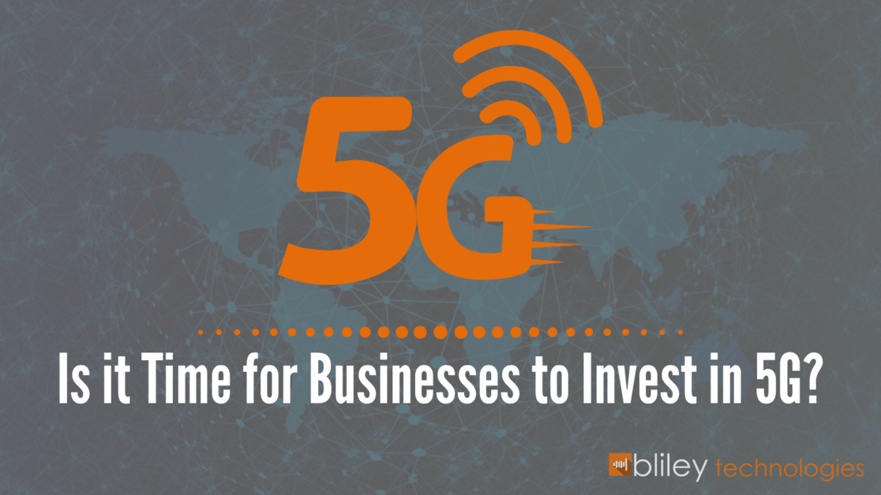 With so much hype around 5G over the last few years, it's understandable that business leaders would be skeptical of its promises. As Larry Downes points out in Harvard Business Review, the implications for 5G for businesses are so diffuse and novel that many business leaders have a hard time imagining them, much less putting financial trust in them. So, will 5G's promises be fulfilled?
All signs point to yes, though it will probably take a few years. But don't let that fool you into thinking there's time to waste.
History shows us that when new technologies disrupt industry, it happens at lightning speed. The businesses most poised to benefit from the era of 5G are those that are laying the foundation by building and offering 5G solutions today.
Keep reading to learn what 5G is, where its future is headed, and why now is the time to invest in 5G infrastructure.
What is 5G and How Does it Work?
5G is all about speed. Typically, wired broadband connections are much faster than wireless connections. 4G – or 4th generation wireless – made huge inroads in terms of speed, but is still slower than wired connections. 5G promises to "supercharge the nascent IoT" (Internet of Things), according to Downes, by packing or "densifying" the network.
With much smaller but more densely-deployed antennae, providers can send signals much faster, in gigabits rather than megabits per second. In other words, 5G lets providers drastically reduce latency – the holy grail of all service providers but especially those in the B2B space.
Indeed, much of the focus on 5G has been on consumer use cases, such as mobile entertainment. While it's true that 5G promises to make downloading and consuming music and movies much faster, the real winner in the era of 5G will be businesses. With faster connections, everything a modern business needs to succeed – from intra-organizational communication to the actual delivery of services – can happen faster too.
In other words, wireless will be able to compete with broadband in unprecedented ways.
The current lay of the land
Virtually all major wireless networks began rolling out 5G solutions or plans for 5G solutions in 2019, including Verizon, AT&T, and T-Mobile/Sprint. Verizon's fastest network, 5G Ultra Wideband, is currently operational in 60+ cities, while its 5G Edge for businesses is up and running in 10 U.S. cities.
The November 2020 report from Ericsson found the following statistics on 5G (PDF):
At the time of the report, 5G was predicted to serve over 1 billion people by the end of 2020
5G subscriptions are predicted to reach 3.5 billion in 2026
New functionalities are being introduced in 5G devices at accelerating speeds
At the time of the report, 69 percent of quality-led service providers had launched 5G for smartphones commercially
What do these numbers tell us? Basically, the 5G race is on. Businesses all over the world are jumping on the 5G train; businesses that hesitate risk losing out on the "trapped value" that Downes predicts 5G will release.
The Benefits of 5G for Businesses
What exactly is this "trapped value"? In other words, what opportunities can businesses uncover (and profit from) by investing in 5G infrastructure early?
By enabling faster performance, reduced latency, increased IoT reach, practical edge computing, network slicing, and more, 5G is likely to explode in use cases across a vast range of fields, including:
AI, automation, and machine learning: From smart homes to telemedicine to self-driving cars to manufacturing and agriculture to banking, faster wireless connections will enable both B2B and B2C companies to deliver services more efficiently and securely.
Virtualization (Augmented Reality and Virtual Reality): 5G's capabilities will give enormous power to businesses in the AR and VR industries, which rely on strong networks to deliver entertainment to increasingly mobile audiences.
Cloud computing: The IoT relies ever more heavily on cloud computing and cloud storage – but accessing the cloud requires fast, reliable connections. 5G's speed could even lead to lower consumer prices because of a reduced need for physical storage space on devices.
Consider checking out this list of other facts and myths about 5G.

The Race is On to 5G
When fully implemented, 5G is expected to beat even wired connections. In the summer of 2020, Qualcomm reported some global 5G speeds that were 2 to 11 times faster than average fixed broadband speeds. Experts from Harvard Business Review, Business News Daily, and more insist that 5G is the future of the IoT.
This means the time to start investing in 5G infrastructure is now. Businesses should aim to start selling 5G solutions today, especially those in the B2B space, where revenue tends to be more stable and easily monitored. Otherwise, businesses risk falling behind once 5G becomes the norm and their wireless networks can't keep up.