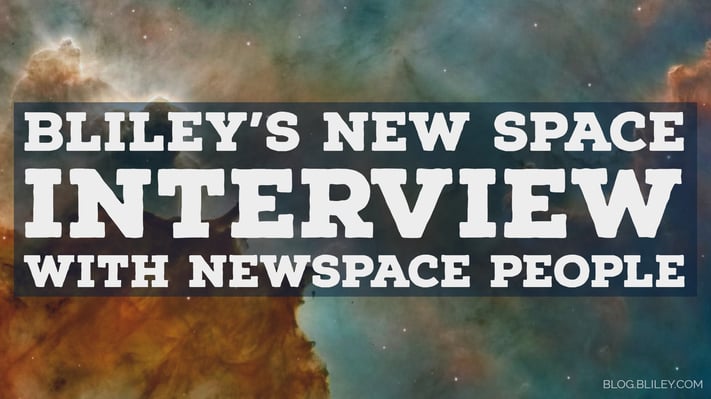 The following interview was originally featured on NewSpace People, a website dedicated to covering the leadership and business of the 'New Space' industry.
In this interview, Bliley's Director of Business Development Darshan Shah discusses some of our most recent (and exciting) projects, as well as what we've got in store for the next few years.
What Is the Background of Bliley Technologies' Top Management?
Bliley Technologies' Top Management comes from many different backgrounds in Aerospace and Defense, Transportation, Communication, and Technology with a great blend of technical and business experience.
Keith Szewcyk, CEO of Bliley Technologies, has 20+ years of global product growth leadership through global executive/general manager roles in the transportation industry at General Electric (GE) and Finmeccanica. He holds a BS in Electrical Engineering Technology at Point Park University and an MBA at University of Pittsburgh.
Tommy Reed, SVP Engineering and Technology, has led R&D programs for several years at Harris Corporation's Electronic Systems Segment with in the Aerospace and Defense Industry. He holds a BS and MS in Electrical Engineering at University of Florida.
Steve Runkel, SVP Sales and Business Development, has 30+ years of global technical sales and company leadership through VP and CEO roles at Black Box, B&B Electronics and Quatech within the Communication and Technology industry. He holds a BS in Computer Science at Penn State University.
Greg Rogers, VP of Products, has 35+ years of global experiences within the frequency control and timing technology industry, holding VP roles at Bliley, M- Tron PTI, and Murata Electronics. He holds a BS in Electrical and Mechanical Engineering Technology and an MBA at Gannon University.
Darshan Shah, Director of Business Development, has extensive engineering experience developing RF systems while working in both the space and inflight connectivity industry at Boeing Satellite Systems, Gogo, Global Eagle Entertainment. He holds a BS in Electrical Engineering at Purdue University and an MS in Electrical Engineering at University of Southern California.
What Is Bliley Technologies' Core Product or Service and Its Unique Proposition to Their Market Sector?
For more than 85 years, Bliley has been crafting some of the highest performance frequency control devices in the universe. Our glass sealed BG61 crystals have been at the heart of ultra-stable oscillators powering historic science missions like New Horizon and Cassini.
As one of the last remaining US-based manufacturer of space qualified frequency control crystals and oscillators, Bliley has focused on delivering the most compelling and competitive products to the rapidly evolving Space Market.
These products, i.e. crystal oscillators, are required for radio frequency hardware to operate properly because they offer the stable and clean reference signal within the RF hardware enabling its operation at the appropriate frequency that they are designed or "tuned" to operate at.
Today, Bliley is leveraging its engineering prowess to develop integrated solutions that include world class frequency control products with additional capabilities such as GPS disciplining as well as offering blocks within the RF chain.
Bliley is uniquely positioned to service the growing "new space" movement because of our heritage with traditional space and the experience of its leadership team who deeply understand the technical, commercial, and schedule drivers for a large satellite constellation that are under severe cost constraints due to the volume of satellites. The "new space" paradigm shift is challenging the economics of building satellites, and it is becoming a forcing function to find capabilities to offer sufficient scale given the size magnitude of the new satellite constellations. Bliley has recognized this.
Bliley Technologies is positioned very well in offering solutions that are catered to the desired requirements for these LEO satellite constellations and is set up to meet the volume requirements with our in-house contract manufacturing capability. Our solutions greatly challenge SWaP-C concerns with existing RF communication technology as well as great performance with respect to phase noise and stability.
What Are Bliley Technologies' Growth Objectives over the next 5 Years?
For the next five years, Bliley is looking to become the premier and most sought out solution for our newly developed product – Atlas, which is a GPS Disciplined Oscillator. We have recognized that this need has become apparent for satellites of all shapes and forms that are operating in LEO orbit. The GPS Disciplined Oscillator offers both long-term and short-term timing stability through means of locking our crystal oscillators onto the GPS signal through means of Atlas design.
Another critical growth objective that Bliley wishes to accomplish within the next five years is to provide not just a crystal oscillator solution to potential customers, but to offer a full box builds of an RF block (LNAs, downconverters, high power amplifiers, and beyond!) with the RF System for which our crystal oscillators would be integrated into. We understand the "new space" paradigm shift, and we are trying to execute our knowledge in this space by offering more compelling solutions that offer more functionality to what we would normally offer customers. We feel our expertise will allow us to develop more complex RF solutions that will challenge the infamous acronym constantly dropped in the "new space" world – "SWaP-C." By noticing the shortcomings or unavailability of RF hardware out there for the "new space" industry, Bliley's value proposition over the next five years is to develop these product offerings for the industry and help the enablement of all the institutions, academia, and private companies that are trying to accomplish a wide variety of satellite missions that are being adopted on LEO satellite platforms!
What Competitive Changes Does Bliley Technologies' Envisage Within Key Markets over the next 5 Years?
Bliley believes some consolidation may take place over the next 5 years as key players within the new space industry form and are able to competitively make profits. The competitors that are able to deliver the proper seam-less user experience in the commercial "new space" industry at a cheaper cost (both associated with the ground infrastructure as well as the satellite platforms) will prevail and potentially inflict this consolidation. The user terminal will also be critical in that it must be very cheap for regular consumers to commit an investment towards to the use of services provided by the commercial satellite constellation. The "new space" industry is very exciting at the moment and ALSO very competitive.
Bliley also believes that laser communication will be an important aspect to satellite technology going forward with all the spectrum leading up to laser communication bands becoming saturated or even unavailable due to rights given to companies. The need for more bandwidth and higher data rates will become an apparent trend and technology research and development will point to laser communication. This will also be required for any deep space missions with all the discussions having missions go out to Mars and other deep space locations.