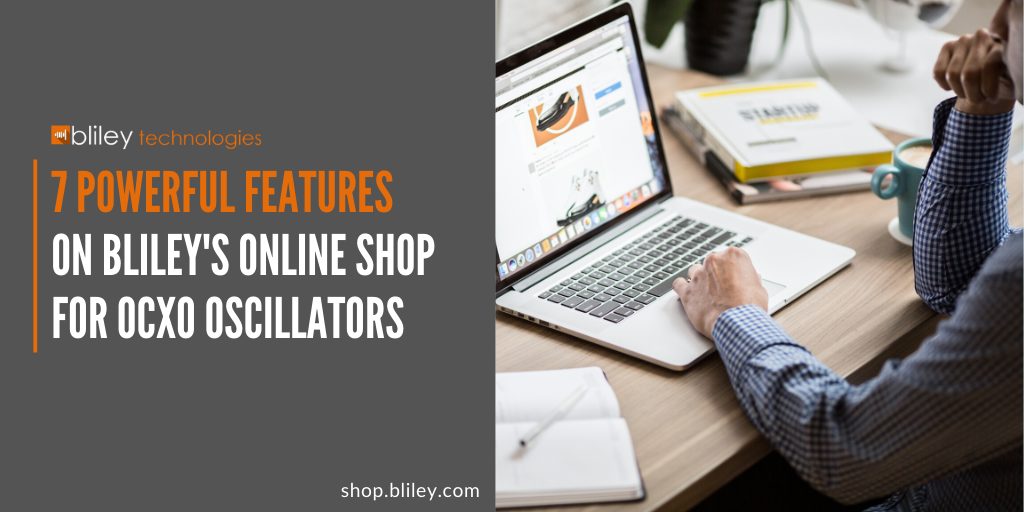 Bliley Technologies online store is the newest, most powerful tool to quickly shop high-performance OCXO oscillators at amazing prices.
In this post, I'm going to show you 7 powerful features on the online store that will help you
Quickly find the best OCXO oscillator for your needs
Find the best cost/performance ratio on the market
Get lightning fast lead times on all in-stock parts (receive your order within days!)
Get the most cost savings possible (access real-time price breaks)
And more
Let's dive into the top 7 features that will help you find & buy OCXO oscillators with ease (and find your perfect solution).
7 Powerful Features on Bliley's Online Shop for OCXO Crystal Oscillators
1. Advanced Oscillator Specification Search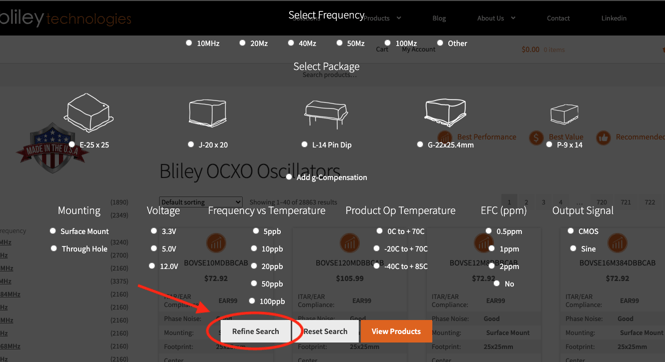 On the first main screen when entering shop.bliley.com, select your desired OCXO oscillator specifications. Only "Select Frequency" and "Select Package" are visible by default. However, you can click "Refine Search" to display more requirement options.
This is a powerful feature, especially for those who already have an idea of what they're looking for in an oscillator. Once you select your desired specifications on this screen, click "View Products" and all available part options will be displayed.
If you can't immediately find results based on your selected requirements, use the sidebar filter to check and/or uncheck specifications to find other similar parts that are available (or click the "Bliley Technologies" logo to be taken back to the main specification selection page pictured above).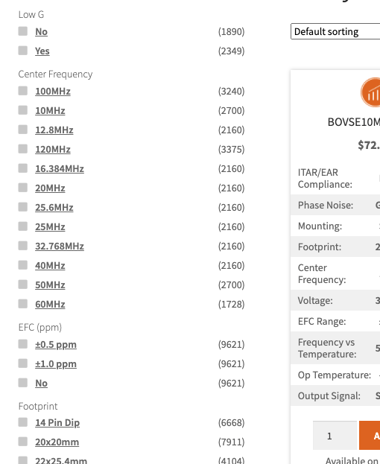 Still can't find exactly what you need? No problem! Just find the closest option available and click the black "custom quote" button for that part. You can then manually adjust the features to make it exactly how you prefer. (Note: customized parts have significantly longer lead-times).
2. Follow the Orange Feature Icons

Not to be confused with following the 'yellow brick road' (but similar)... you'll notice that many part listings on the online oscillator store include 1 or more orange icons.
These icons help highlight key product features or attributes that can help you quickly find what you're looking for.
Is price a main concern? Click the orange dollar sign icon (Best Value) to view our products with the best cost/performance ratio.
Looking for our best performance oscillators offered on the store? Click the orange graph icon (Best Performance) to see our best performing ecommerce products.
Refer to the infographic below to see a complete list of icons that can be found on the store (and their meanings)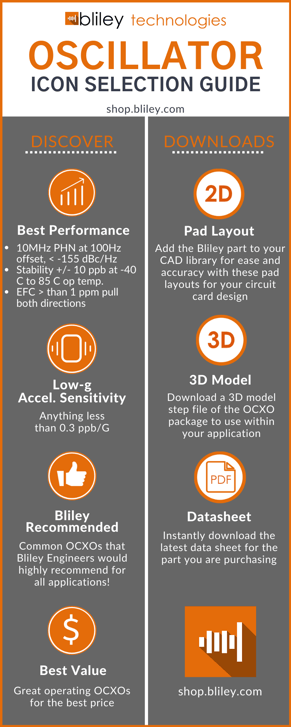 Note: The download icons can be found on the main product page for each individual part by clicking on one of the product part number listings.
3. Downloadable Resources
Speaking of download icons, we thought the free downloadable resources feature deserved its own section in this list.
Every single product listed on the online crystal oscillator store offers easy, instant access to the product's 2D drawings, 3D drawings, and datasheet.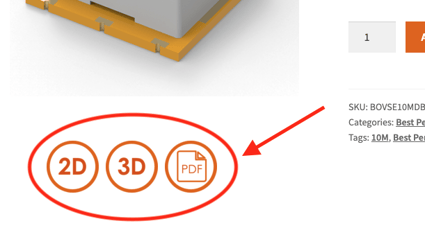 4. Oscillator Product Sorting Options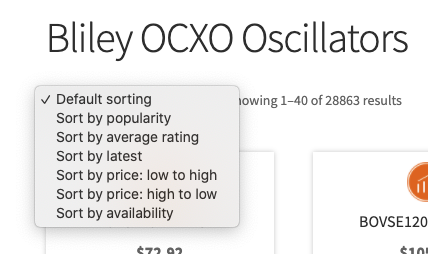 Click "default sorting" on any of the main product listing pages to view other useful sorting options.
We find it really useful to "sort by availability" to show all of our in-stock products first. Products that are in stock have the fasted lead times (you'll typically receive your order within a few business days) as opposed to products that are available for backorder (typically a 6-12 week lead time, but may vary).
5. OCXO Oscillator Product Search

Near the top of the page you'll notice a useful product search feature.
This feature is especially useful for new or existing customers that have a specific part number they're looking for. Just enter the full part number without any dashes or spaces (currently, only part numbers that begin with BOV or LN are available online).
If your product is on the online store, it will take you directly to that specific part page with additional specification, pricing, and purchase information.
If that part you entered can not be found online, it will automatically take you to a request a quote page and we'll get back to you with a quote for that part number ASAP.
6. "My Account" Feature (Get Real-Time Price Discount Data)
The "My Account" section can be accessed near the main navigation menu and shopping cart.

Setting up a "My Account" is useful for 3 main reasons
Access REAL-TIME pricing discount data on all of your previous purchases
Create and share a single company account so that multiple departments or locations within your company can access previous order and pricing information
Get additional product discounts and promotions via email (exclusive to "My Account" members)
Watch the video above to see exactly how to set up "My Account" step-by-step.
7. Skip the Oscillator Quoting Process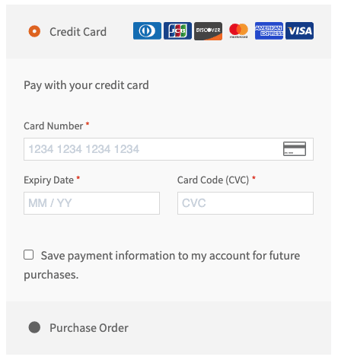 One of the best features of the Bliley eCommerce store is the ability to skip the annoying quote process and make quick purchases with a credit card or purchase order.
No need to talk to a sales person and no need to wait for a response on a quote. Just get instant access to pricing and complete your purchase in a few clicks. What could be easier than that?
Are You Paying Too Much for your Quartz Crystal Oscillators?
Did you know that the type of crystal cut inside your oscillators can have a significant impact on long-term oscillator performance? Download our free ebook that will help you discover if you're really getting the best cost/performance ratio out of your OCXO oscillators.
Pay close attention to the section in the ebook that we like to call "The AT Cut Conundrum". The At Cut Conundrum highlights 2 hidden myths of AT cut crystals that can end up costing you more time and money than expected in the long-run. Download the free ebook below to potentially save big the next time you shop for OCXO crystal oscillators.