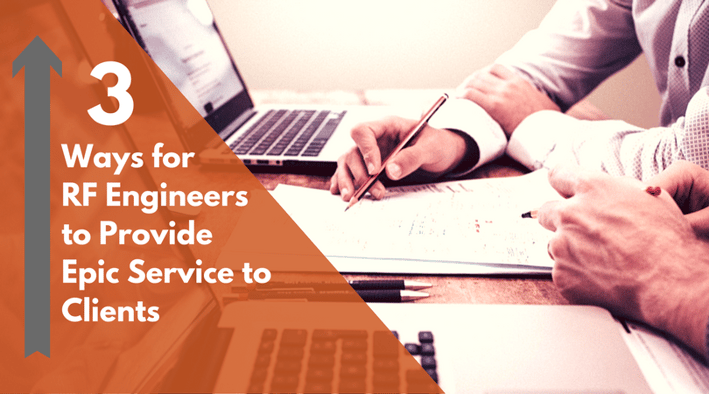 There are big changes coming in the world of RF engineering in the next few years. Major breakthroughs in wireless coverage, military technologies and satellite and space-based systems will mean that radio frequency specialists will be in high demand, and only the best will land the most lucrative contracts.
With all this in mind, how can RF engineers make sure they rise above the competition? There's sure to be a lot of it. If you work with radio frequency tech, how can you provide the best possible service to your clients, while maximizing your value in the marketplace?
Here are a few tips that will ensure that you and your company offer superior service and stand out in the world of radio frequency engineering.
Understand Your Client's World
When you're working with a client, don't just carry out the technical tasks you were hired to do. Figure out what the short, medium and long-term goals of your client are. What is the end result that the RF solution you are offering is supposed to achieve? What are their needs as a company - not just in terms of the solution you're discussing, but as a whole?
Where do your clients rank in their industry? Who are their competitors? How do their value propositions compare with those of your client? These are things you need to be aware of when you are designing and building RF solutions for any customer.
Communicate
Offering high-quality service to your client isn't just about being a skilled RF engineer. You need to be able to communicate effectively with all stakeholders in the project. So many problems in business can be traced back to poor communication. Always keep your client in the loop. Throughout every stage of product development, there should be regular communication to ensure the project is progressing is the right direction which allows you to stay on top of any changes in your client's needs.
Keep in mind that many of the people you'll be working with do not have a specialized RF or engineering background, and may not be able to understand things that seem obvious to you. Being able to explain radio frequency concepts in ways non-engineers can understand is a huge asset and will help you build more trust with your clients.
Of course, good communication skills are also necessary when working on a team of fellow engineers. If you're all communicating in a harmonious manner, it means better performance and better results for your customers.
This may seem like really basic stuff, but many engineers don't place enough value on communication. If you're one of the engineers who does, you can be assured that your clients will notice, and you'll be in higher demand than the competition.
This is another one that seems like a no-brainer, but it prevents so many headaches that it must be included here. How you do any job is how you do every job. Follow best practices to meet your deadlines and keep your costs under budget.
Merely holding yourself and your team to industry standards is setting a low standard. Make the decision to be exceptional. Develop a quality management system and make sure your team not only understands and follows it but embraces it enthusiastically.
It doesn't end with certifications and superior methodologies. Make the choice to always be improving, both as part of a team and as an individual engineer. Stay on top of any changes and new trends in the RF industry. Continue your training and education even if you are already established in your career. By staying up to speed on new technologies and future developments in the radio frequency field, you can design better RF solutions and offer better service to your clients, because you'll be able to anticipate how well your solution will serve them in the future.
We believe that these three concepts are the pillars that exceptional service is built upon, and they shape the attitude our engineers bring to every new client. We've been a world leader in radio frequency engineering for decades, and we have no intention of slowing down. If you place a high value on a quality customer experience as well as engineering expertise, we'd love to hear from you.