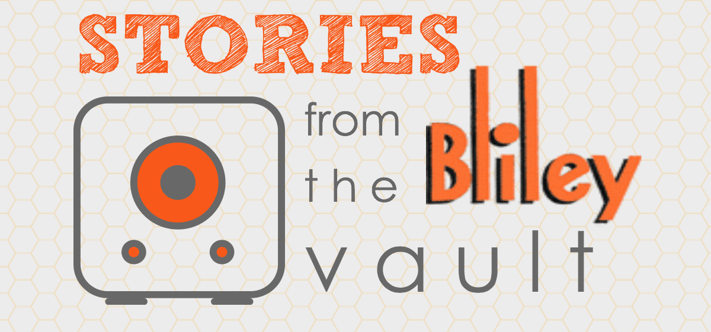 While looking through the Bliley archives for material to write about for this new installment of Stories From The Bliley Vault, I discovered a very interesting set of two letters— one from a minister in South Africa from 1936 and another from an Army Colonel in 1942.
What makes these lett
ers so interesting?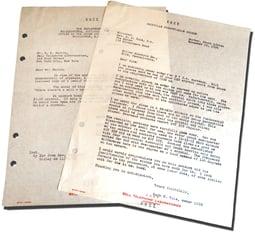 In short, they are an incredible story about how a letter from a South African Presbyterian minister and ham radio customer of Bliley Electric, accidentally fractured a crystal, salvaged a part of it, and reused it on another much-higher frequency. Six years later, his letter was used to "motivate" Bell Laboratories engineers by example to do something they thought was impossible.
A Message from a Minister
Below is a transcription of Reverend Yule's letter followed by a bit of a translation for those who are not familiar with ham radio jargon. The letter was transcribed onto Bell Telephone Laboratory stationary.
---
GREYVILLE PRESBYTERIAN CHURCH
Durban, South Africa
November 16, 1936
Minister:
Rev. H. F. Yule, B.A.
The Manse:
158 Windermere Road
Bliley Electric Co.,
Erie, Pennsylvania.
Dear Sirs:
I am enclosing money order for 3£ S.A. currency. Will you please send me one of your LD2 crystal units from stock in the neighborhood of 7100 kc.
I am ordering direct in order to express my entire satisfaction with all the claims you make for the unit. The one I have used up to now was 7097 kc. Unfortunately, owing to an accidental overload, the crystal split into three pieces. Remembering that the unit was specially ground, I was able after careful grinding of the splintered edges to get the pieces to work.
I am using one piece in a 59-RK20 circuit on the fundamental frequency. I found that there was on this setup perceptible change in frequency from that of the whole crystal. This piece would be just about half the crystal and oblong shaped. Overseas contacts report RST 559 regular.
The remaining portions were carefully gone over. One was discarded as too small for use, the other about one-quarter of the crystal is now being used in a 53-53-53 RK20 circuit on ten meters and contacts overseas have given as good as RST 559 and as weak as RST 229. Contact was established with four continents; Australia and South America only being wanted for WAC with one-quarter of a crystal. The frequency difference here is one degree on a band spread of 100 degrees on ten meters.
I would warmly congratulate you on this product and its justification of the claims you have made for it. I look forward to the possession, at some later date, of some similar unit for the 14 mc. band.
Thanking you in anticipation,
Yours faithfully,
Hugh F. Yule, owner LUSB
---
Reverend Yule had purchased one of Bliley's most popular crystal units of the day, the LD2, a pressure mounted crystal unit that sold for $4.80 with a frequency within 5 kHz of what the customer desired. That was a substantial sum of money for a hobby purchase during the Great Depression, but it was a considered a good investment by many hams.
He writes of using the LD2 successfully for some time on the 40-meter (7 MHz) amateur band. But then, he exceeded the recommended feedback current level though the crystal unit and resulting in it being fractured into three pieces. But, he did not throw the pieces away.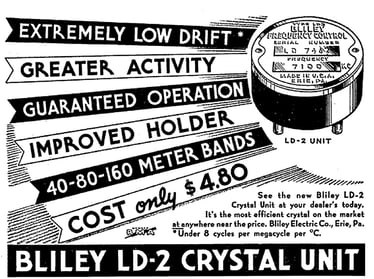 1936 LD2 Advertisement
He polished the edges of one of the larger fragments and remounted into the holder. Then, he tested it in his transmitter and found it worked just fine on the 20-meter amateur band (14 MHz) with crystal-clear signal reports from South America! A smaller fragment was used that unexpectedly resonated on the 10-meter (28 MHz) ham radio band that also worked just fine.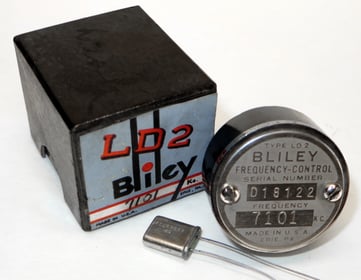 LD2 & Modern HC-18/U
While it could easily be claimed the LD2 unit was a quality product, no one would ever expect smaller crystal blank fragments to work just as well on another frequency, and one, at four times the original frequency!
A U.S. Army Colonel Passes the Letter On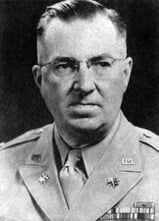 And then...much to my surprise, six years later, Rev. Yule's letter got into the hands of Colonel O'Connell of the U.S. Army Signal Corps, head of a program to expand crystal manufacturing for wartime purposes. He used the 1936 letter to demonstrate to Bell Telephone Laboratories engineers that it was possible to reduce the cost of crystal units by a reduction in the crystal blank size. While that is not possible, it was the point he wanted to make.
The following is a transcription of the colonel's letter to the Bell laboratories' engineers:
---
WAR DEPARTMENT
HEADQUARTERS, SERVICES OF SUPPLY
OFFICE OF THE CHIEF SIGNAL OFFICER
WASHINGTON, D.C.
November 11, 1942
Mr. D. K. Martin,
Bell Telephone Laboratories,
463 West Street
New York City, New York
Dear Mr. Martin:
In view of the work now going forward on the dimensioning of crystals, I am sure you will appreciate the enclosed copy of a letter received some time ago.
The moral of this enclosed letter seems to be: "Where there's a will - there's a way."
It appears that this was a regular, stock, Bliley $3.00 crystal. If only he could have tried the third portion, he would have been the first to realize our objective of a dollar a crystal.
Cordially yours,
(Original signed by)
J. D. O'CONNELL,
Colonel, Signal Corps
Incl.
Cy Ltr from Rev. Yule to
Bliley dd 11/16/36
---
Interesting—Bliley's product got praise from a minister and a colonel, and a letter was used to criticize the famously-progressive Bell Labs for failing to create a smaller lower-cost crystal unit during WWII.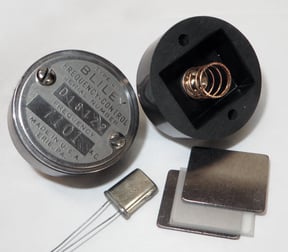 LD2 with Cover Off, Crystal Blank & Modern HC-18/U
It is also interesting that John Wolfskill, Bliley's chief engineer, was once a young researcher at Bell Telephone Labs from 1929 to 1932. Was he encouraging the colonel to poke the fellows he used to work with at Bell Labs?
Today's Bliley products are still high-quality products, but expecting them to work after being shattered is highly unlikely :)
Looking for another journey into Bliley's past?
We got you covered! You'll be amazed How Bliley Recieved the WWII Army-Navy "E" Award not just once, but 4 times in just a few years! Be sure to check out this amazing story that helped grow Bliley's reputation into what it today!
Or how about some Christmas cheer? (There's always room for more!) Check out Stories from the Bliley Vault: The Christmas Letter
---
About The Author
Chuck Bliley is the third son of the company founder, Frank Dawson Bliley, who died in 1955 when Chuck was nine years old. As a young teenager, he followed in his father's footsteps by becoming a licensed radio amateur at the age of 14. In 2016, we invited him to contribute to the company by writing short stories of the company's early years. He welcomed this opportunity to tell some of his favorite stories from his archives to a new audience through the company's blog.
A brief biography can be found on his web site.