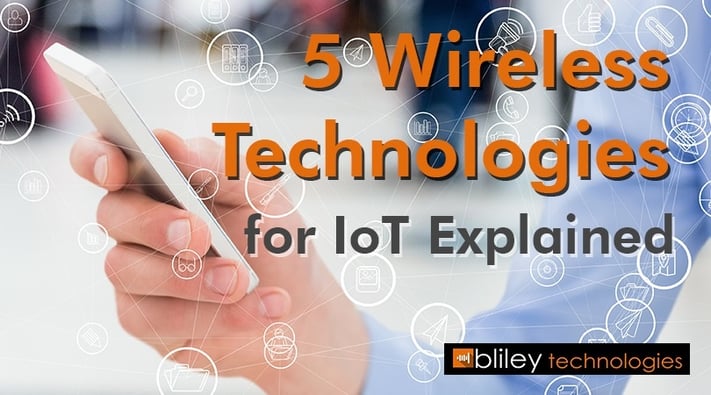 The Internet of Things (IoT) is a broad term which encompasses the multitude to wirelessly connected devices that surround us. It applies not only to smartphones and tablets, but to millions of machines, devices, and new twists on traditional products which were previously not connected to the internet. But what makes it all possible? How do these devices connect to the internet and communicate with each other? We've talked a lot about the role 5G networks will soon play in IoT revolution, but there are already some familiar (and less-familiar) RF technologies driving it right now. Let's explore 5 important wireless technologies for IoT products.
How do Wireless Technologies for IoT Connect?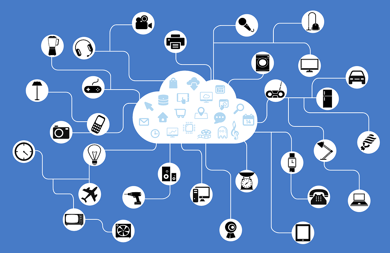 While all IoT devices transmit and receive information wirelessly, they don't do it in exactly the same way. There are different options for connectivity, and some are better suited to certain applications than others. Factors like battery life, range of coverage, power requirements and bitrate must all be taken into account when deciding which option to use for a given application. So what are the different options and what makes them unique?
WiFi
Walk into just about any coffee shop, school or library and you'll probably find WiFi (there's a very good chance you're reading this using a WiFi connection right now). It has been assigned the standard 802.11 by the Institute of Electrical and Electronics Engineers (IEEE), and operates at either 2.4 Ghz or 5 Ghz. Most routers offering a maximum range of 100 meters
Many IoT devices currently make use of WiFi, and many more will do so in the coming years. Look for WiFi to play an important role with wireless offloading as 5G networks begin to come online.
Related: Bliley Interviews Creators of Passive WIFI
Bluetooth
Next we have Bluetooth. Those little hands-free earpieces for your phone have been around for awhile now, but this technology can do so much more. Bluetooth (IEEE Standard 802.15.1) is used in many different medical and industrial devices. Like WiFi, it also operates at 2.4 Ghz, but it does have some key differences that make it ideal for embedding in smaller products.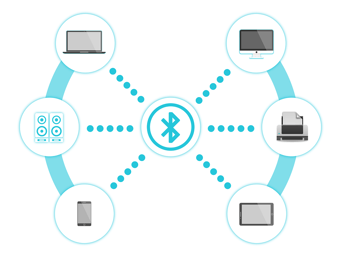 Bluetooth systems are designed to be used only within a short range (0-10 meters), and as such, require less power. This makes it ideal for embedding in small electronic devices, such as wireless headphones, smartwatches and other wearable electronics, as well as wireless keyboards, mice, speakers and more.
A variant called Bluetooth Low Energy (BLE) was released in 2011 and requires significantly less power than standard Bluetooth. While it is not well-suited for making phone calls, it is good for periodic transmissions of small amounts of data. BLE is used in products like industrial monitoring sensors, and certain connected medical devices like blood pressure monitors.
Z-Wave
"Z-wave" (Z-Wave Alliance ZAD12837 / ITU-T G.9959) may not be a name you hear every day, but is proving to be one of the most popular wireless technologies for IoT products. Z-wave is a special protocol used specifically for home automation and connectivity. Perhaps the most famous example of Z-wave technology right now is Amazon's Echo, which has revolutionized the way tech-savvy consumers shop and use media. There are over 2000 Z-wave products on the market, allowing connectivity for household products ranging from smart garage door openers, fire alarms, fans and blinds, to remote-controlled front door locks and thermostats.
Z-wave systems generally have a range up to 30 meters, and operate in the frequency band below 1 Ghz.
Zigbee
Zigbee (IEEE 802.15.4) is a wireless standard which is usually used for industrial applications, but also in some home products. Similar to WiFi, it makes use of 2.4 Ghz bandwidth, but has lower power requirements and is designed for much more limited data exchanges, operating at 250 kbits/second.
Zigbee has a range of up 100 meters, but it can transmit further by using a mesh network of devices acting as nodes which relay data onwards to device it is intended for. Zigbee networks are highly scalable and thanks to 128-bit encryption, offer a high level of security compared to other wireless technologies for IoT. Zigbee technology is currently used in various industrial applications and sensors.
LoRaWAN
Long Range Area-Wide Networks (LoRaWAN) is a protocol specifically built for IoT applications on wide area networks. It is designed to enable communications at low bit rates in low power wide area networks connecting IoT devices with a centralized network server. LoRaWAN (IEEE 802.15.4g) operates in unlicensed spectrum below 1 Ghz and offers data rates of 0.3-50 kbps.
It is more secure than most other wireless technologies for IoT because it can transmit encrypted data at different frequencies and bitrates.
LoRaWAN has many industrial and smart home applications, and with a range of up to 20 km, is a key technology that enables IoT "smart cities" programs to move forward and perform as efficiently as possible.
It's estimated that by 2020 there will be some 30 billion IoT devices in use. As this industry gets ready to explode, you'll want to make sure you have the best firms on your side, and with 85 years of radio frequency excellence under our belts, Bliley is up to the task. Check out selection of world class, low-phase noise products, and gain an early lead in the race for the best products and wireless technologies for IoT.