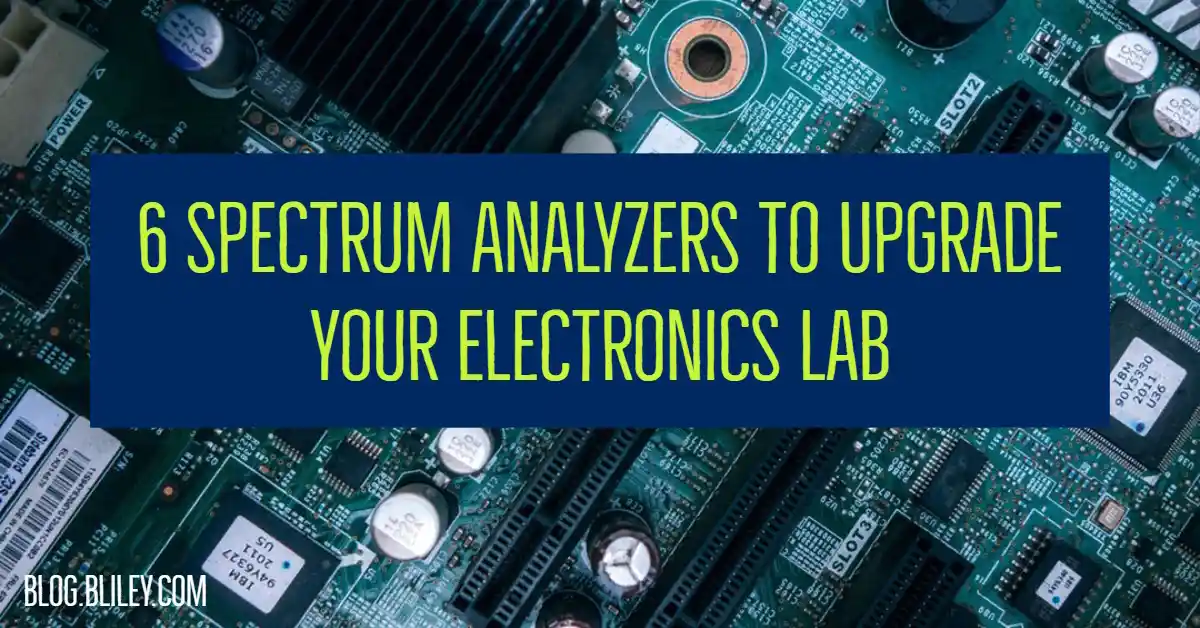 Is your electronics lab in need of an upgrade? It's important to keep your equipment up to date with the latest and greatest technology to keep getting the best results (and therefore a more effective product). In this post, we're going to look at 6 spectrum analyzers that will work (and look) great in your lab.
We've also provided power supply and oscilloscope recommendations in other posts if you're interested in more great test equipment for your lab.
**Disclosure: This post contains affiliate links at no additional cost to you.
**Product Images and descriptions from product websites
6 Top Rated Spectrum Analyzers to Enhance Your Electronics Lab
SIGLENT SSA3021X is a SSA3000X series spectrum analyzer with a frequency range from 9 kHz up to 2.1 GHz. This device is lightweight and small-size, with a user-friendly interface, concise style of display, reliable measurement precision, and plenty of RF measurement functions. Applicable to research and development, education, production, maintenance, and other related fields, meets a wider range of application requirements.
This OWON spectrum analyzer has a frequency range from 9 kHz up to 1.5 GHz. It also includes a 150dBm Displayed Average Noise Level, -85dBc/Hz @1Gz phase noise, and Total Amplitude Accuracy of <1.5dB. Its easy-to-view 10.4 inches display and easy-to-use design make it a great option for your upgraded electronics lab.
The Rigol DSA815/TG is a compact and light Spectrum Analyzer with premium performance for portable applications. The use of digital IF (intermediate frequency) technology guarantees reliability and performance to meet the most demanding RF applications.
The very large display (20.3 cm / 8) of the Rigol DSA815 Spectrum Analyzer with a resolution of 800x480pixels provides a very good overview of all its comfortable functions like Auto-Tune, Auto Range, Auto Scale, and Auto Couple. These functions enable the analyzer to acquire signals and match parameters automatically, instead of the manual process necessary with a traditional analyzer.
The Rigol DSA800E series spectrum analyzer is small, light, and cost-effective. It is a portable spectrum analyzer designed for starters. Configured with an easy-to-operate numeric keyboard, high-resolution color LCD display, and various remote communication interfaces, they can be widely used in various fields, such as education, company research, and development, as well as industrial manufactures.
The DSA800 family features a unique widescreen display, compact design, and easy-to-use interface and operations, making it ideal for benchtop or field apps in RF and wireless testing and production. The new spectrum analyzer offers the ability to measure smaller signals using our digital IF filter, which allows for smaller bandwidth settings and reduces displayed noise levels. The DSA815-TG Spectrum Analyzer also distinguishes between signals with a frequency difference of as little as 100 Hz.
The RSA306B USB spectrum analyzer might be small but it packs a big punch. It's loaded with features you'd expect from spectrum analyzers twice the size and twice the price. Perfect for everyday tasks.
This spectrum analyzer is portable and ready to connect to a PC with USB 3.0. It also has improved Dynamic range (reduced spurious) and is customization for the internet of things (IoT), interference hunting, or education.
Full Disclosure: Some of the links above are affiliate links, meaning, at no additional cost to you, we will earn a small commission in you click through and make a purchase.
What do you think of our list? Would you add anything? Leave us a comment below!