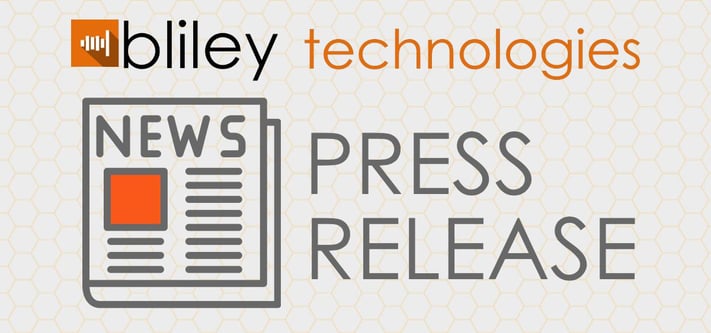 For Immediate Release
Bliley's New Director of Business Development to Focus on Growth of Commercial Space Business.
Erie, Pennsylvania (May 16, 2017) – Bliley is pleased to announce the addition of a key member to the leadership team, Mr. Darshan Shah, Director of Business Development leading the company's initiatives within traditional and commercial space. Mr. Shah joins Bliley with deep expertise as a payload design engineer at The Boeing Company, where he developed key expertise within the space industry. His knowledge and experiences with GoGo and Global Eagle Entertainment as a senior RF systems engineer for inflight connectivity (IFC) and satellite design provides Bliley's customers with a valuable resource for the fast growing low cost commercial space community.
"We are very excited to add Darshan's experiences and deep knowledge base to help us grow our space business, including 'New Space' projects consisting of large low cost LEO constellations," said Bliley CEO, Keith Szewczyk, and added "his core RF systems background with the Ku and Ka band satellite systems adds a perfect link to our newly launched product lines."
"As we hold true to our strategy as a solutions provider, Darshan allows us to add a critical resource to our customers design cycle," Bliley SVP of Sales and Business Development, Steve Runkel commented. "At Bliley Technologies our number one focus is to provide value during our customers' design cycles. Having Darshan's RF systems expertise, including areas of payload design on traditional satellites and IFC systems, gives our customers an advantage."
The space industry is going through a paradigm shift to lower cost, smaller payloads, and larger space based networks. Bliley aims to help pave the way for these lower cost payloads. Bliley's new space mission is to provide the highest performing, highest reliability and lowest cost solutions on the market. Our philosophy behind the solutions we bring to the market is captured in our company's tagline "Bliley takes you further."
Click here to veiw Bliley's "New Space" OCXOs
To learn more about Bliley's frequency control products, visit Bliley.com.
About Bliley Technologies
Bliley Technologies is a worldwide leader in the design and manufacturing of low phase noise frequency control products. Privately owned and operated since 1930, Bliley Technology has been a stable source of quality frequency control products for over 85 years. Bliley researches and develops technologies that are the most innovative, highest quality and the most robust designs offered within the industry. Headquartered in Erie, Pennsylvania.
For more information, visit the company's website at www.bliley.com. Follow Bliley Technologies on Twitter @BlileyTech and on LinkedIn at Bliley Technologies, Inc.