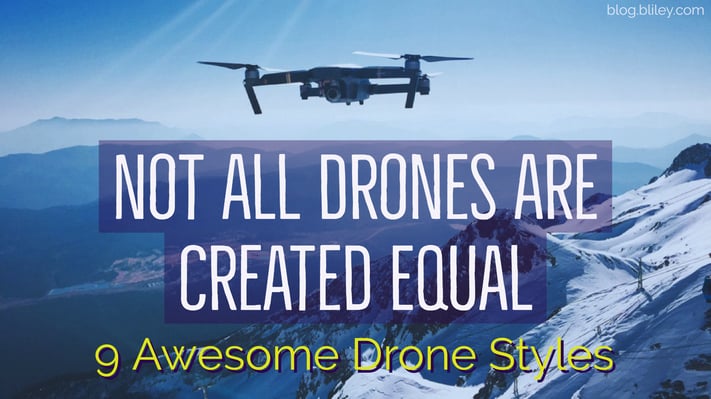 Full Disclosure: This post contains affiliate links in that we will receive a small commission if you click through and make a purchase (with no additional cost to you).
Drones...Drones...Drones... It's almost like everywhere you go these days you can't help but be sucked into "drone chat".
At work: "Hey Darshan! Great idea... we should buy a drone to bring us our coffee every morning"
With your friends: "Yo Tommy, check out this sick drone video I filmed yesterday of Louise falling into the fountain."
At the bar: "HAHAHAHA! He said 'drone'. Excuse me ma'am, can I get another bud light please?"
All this 'drone chat' happens for a good reason. Drones are one of the coolest innovations in decades. Just imagine how far they've come in recent years and all the posibilities they hold. Crazy to think we will see drones delivering our packages from Amazon instead of mailmen in the very near future.
But not all drones are equal. There are already so many variations of drones used by consumers and for commercial use as well. Even the military is using the newest technology and innovations in their drones. From tiny to huge...and many varrying uses... there are so many possibilities!
Let's go on an adventure and explore the many different types of drones that can be found around the world today.
6 Types of Consumer Drones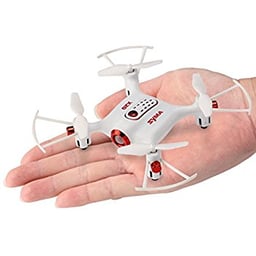 This is one of the smallest drones on the drone market today. It's also good quality for the great price. The mini pocket drone is an affordable option for beginner flyers or those looking for a cheap thrill. Some of its features include
Altitude hold mode

Headless Mode (no need to adjust the position of aircraft before flying)

3.

6-Axis gyro quad-rotorcraft flight

Strong stability

Stronger wind resistance

One Key Take off / Landing
2. Toyen GordVE
The Toyen GordVE is a slightly more expensive WIFI drone that gives you the ability to utilize your smart phone to get a "drone's eye view" from the sky above. A full charge can last about 8-10 long minutes. It's also designed for a quiet flight to ensure that your camera picks up minimal background noise to improve the quality of your video and audio. Other features include
Equipped with the latest 6-axis flight control systems

Headless Mode

High/Low speed mode helps reduce the learning curve for beginner pilots

One key 360° roll
3. DJI Spark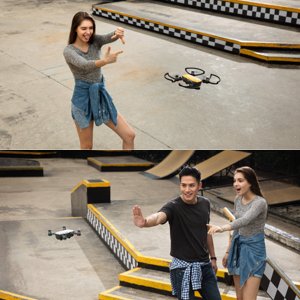 DJI creates some of the highest quality drones on the market today. They're on the more expensive side, but for anyone looking for a professional quality drone that captures stunning photos and video...this is a drone for you! It also has more advanced features to take your flying and photo/video creation to the next level! Other features include
Intelligent Flight ModesSmart

High-Performance Camera; Amazing images and stabilized video

2-axis Mechanical Gimbal Stabilization

Shake-Free Shots

With FaceAware, Spark lifts off from your hand by recognizing your face
The Holy Stone Quadcopter is yet another high quality drone that won't break the bank. It includes an HD 1080P Camera: Equipped with professional 1080P 120° Wide-angle HD capabilities allowing recording of high quality video or taking clear images. It also has a one key return and headless mode function. Even includes a bonus battery! Other great features include:
Automatic Altitude Hold

100m control range

Speed control

Emergency stop

Controllable led light

6 axis gyro

Low voltage protection
One of DJI's newest and most innovative products. It's a little more pricey...but is sure to bring you professional quality flying and video capturing. The Mavic Air is able to record stunning
4K Video and 12MP Photos. Don't let its small size fool you...it's one of the most powerful and technologically advanced drones on the market today.
If you're looking to take even the Mavic Air to the next level...you've got to check out the Mavic Pro. I'd be willing to argue that this is the best, highest-quality consumer drone available today. Check out some of its amazing features:
Folds down as small as a bottle of water, making it small enough to bring with you everywhere

New OcuSync transmission system offers up to 4.3 miles (7km) of transmission range. Fly at up to 40mph (64kmh) or for as long as 27-minutes

ActiveTrack, TapFly and other smart features make professional looking video effortless. True 4K, fully stabilized ensures smooth footage

Obstacle Avoidance combined with sensor redundancy increases flight safety and reliability

Vision positioning paired with GPS and GLONASS ensures precise positioning indoor and outdoors.
3 Types Military and Defense Style Drones (UAVs)
1. Weaponized, Soldier-Launched Drones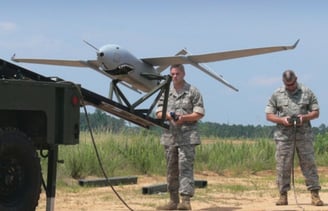 Photo: popsci.com
The U.S. Army is using weaponized, soldier-launched drones capable of launching from small, portable tubes and suicide bombing a target from above. There are even newer drones in the works that will enable even more precise and "smart" autonomous combat.
2. Military Reaper Style Drone
Not only do these look sweet, but they are the continuously evolving future of our military. Just imagine the possibilities with these extremely innovative and accurate drones that don't require direct human involvement in combat. These have and will continue to save military lives...while also strengthening what the military can bring to the table.
3. US Air Force's Ultra-Secretive Autonomous Space Drone
The X-37B ultra secret SpaceX drone (used by the US Airforce) is quite the mystery. This drone resembles a miniature version of a space shuttle...standing only about as tall as a person. Its wingspan measures less than 15 feet, and it weighs in at just 11,000 pounds.
The drone is designed to orbit earth for months & even years at a time. So what's it doing up there? The Airforce won't tell! Keeping an eye on our enemies? Protecting us from alien life? Performing mind control on humans? Examining the 'flat-earth'? Who knows!
What are your thoughts about what this super secret space drone is doing in our orbit? Leave us a comment below...we'd love to hear your thoughts!