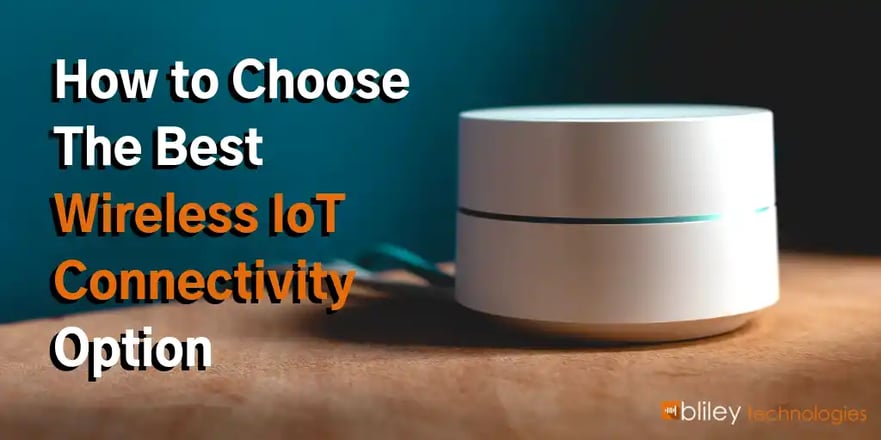 According to Statista, there is a projected 30 billion Internet of Things (IoT) devices to be connected by 2020. That would be over a 400% increase in connected IoT devices from 2014. Most of these IoT devices will need to be connected through at least one type of wireless radio frequency (RF) communication.
There are many wireless connectivity options when it comes to IoT including
Bluetooth
NFC
WiFi
LoRaWAN
NB-IoT
2G, 3G, 4G, and eventually 5G
The real question is...how do you know which of these options is best for a particular IoT device?
With such a wide range of applications, data rates, and performance requirements (battery size & life), selecting the right wireless communication type is critical during the early design process for any IoT device.
Here's an overview of the most popular wireless connectivity choices to help you choose the best option for your design.
Wireless Option
Extended Battery Life?
Range
Typical Data Rate
Spectrum

Bluetooth

👍

Personal
2 Mbps
2.4 GHz
NFC

👍

Contact
100 kbps
13.56 MHz
Wi-Fi

👎

Local
>100 Mbps

2.4 GHz

5 GHz

LoRaWAN

👍

Metro
<50 kbps
900 MHz
NB-IoT

👍

Metro
200 kbps
Licensed cellular
2G + 3G

👎

Metro
<2 Mbps

Licensed cellular

4G/LTE

👎

Metro
>100 Mbps

Licensed cellular
Get Your Free Ebook: How IoT and Wireless Connectivity Make Big Data Possible
Bluetooth
Pros: Bluetooth and Bluetooth Low Energy (BLE) are great options for devices that require a long operating life from small batteries. Bluetooth and BLE are optimized for long battery life through robust power conserving methods.
Bluetooth is frequently used for computer devices such as headphones and tablet pens and optimized for personal area connectivity. Since all smartphones support this protocol, it is the go-to solution for short range connectivity to a smart phone or tablet which can become the bridge to the cloud.
Cons: The long battery life that Bluetooth provides comes at a cost. The communication range and data rates are definitely a weak point. Therefore, Bluetooth may not be the best option if your device requires significant bandwidth for video or if you need to connect over longer distances.
Near Field Communication (NFC)
As the name suggests, NFC is used for short distance data communication between two devices known as the initiator (i.e. NFC reader) and target (i.e. NFC Tag).
NFC finds various applications such as data communication between smartphones, verification of authorized persons at offices and other government places, ticket booking etc.
Pros: This unique wireless option takes advantage of closely coupled fields to establish communication while also receiving power from the base device. This boosts security and eliminates the need for a battery in the linking devices. This makes NFC especially great for applications that need secure links like payment systems, safety monitoring, and access control. NFC technology in mobile phones makes this an ideal option for transferring data like graphics, contact lists, and even video.
Cons: The biggest downside to NFC is connectivity range. This wireless option only works in communicating devices in extremely close ranges (about a centimeter).
Wi-Fi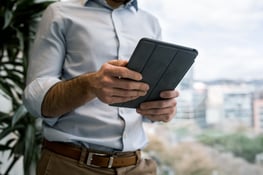 Pros: With the rise of IoT, Wi-Fi has been one of the most popular choices for broadband wireless systems. Many video, TVs, phone systems, conference systems, and security surveillance systems, and even VR/AR technologies have adopted wifi thanks to high data rates and useful range.
Cons: A common problem with Wi-Fi is that it may not always support low enough power consumption for mobile applications since it's often connected to standard wall power.
Related: Bliley Interviews Inventors of "Passive Wi-Fi"
LoRaWAN or LPWAN
Pros: LoRaWAN is a newby in the RF connectivity space. Its rise can be much contributed to that of IoT's growth. LoRaWAN is a very low power option with Wide Area Network capabilities. This makes it easier to connect remotely-located devices that have to survive on low battery without constant manual maintenance for long periods of time.
LoRaWAN is also optimized for low data rates. It uses a spectrum below 1GHz which allows for impressive coverage and range despite very low power operation. This makes them low cost to operate and don't require any of the major cellular carriers to operate.
Cons: Since LoRaWAN is optimized for low data rates, it's not recommended to use this option for data intensive applications like video or audio. The data will not be able to support that.
NB-IoT
Pros: NB-IoT is an emerging cellular standard designed for IoT applications that offers similar benefits as LPWAN. It can maintain extremely long battery life, offers a good connectivity range, has immunity to to interference, and a higher reliability in data & data integrity. The major cellular carriers already offer wireless support across all regions of the globe for NB-IoT which allows for better coverage.
Cons: Since NB-IoT can can maintain extremely long battery life (similar to LPWAN), it does require slightly higher power consumption. The main tradeoff, however, involves spectrum. NB-IoT uses licensed cellular spectrum involving the major wireless carriers that may bring slightly higher operating costs per IoT node.
2G and 3G
Pros: 2G and 3G are already the backbone protocol for machine-to-machine applications like vending machines, parking meters, and industrial monitors using cellular modems. 2G and 3G offer a metro-wide connectivity solution because of its wide coverage and relatively low cost of this established technology. The low enough power for IoT applications makes it easy to implement and is supported by a wide range of hardware module solutions and existing software. Low interference in licensed bands also provides reliability and good data integrity.
Cons: This is not a good choice if you plan on sending video wirelessly. Consider upgrading to 4G/LTE or even 5G for that.
4G/LTE
Pros: 4G and LTE are the latest generation of cellular technology available commercially (with 5G on its way). This option remains the most popular for smart phones and IoT devices that need bandwidth. 4G/LTE is also very reliable and available (provided by the licensed spectrum). This makes it a great wireless option for security systems, automobiles, surveillance and data networks. 5G will offer significantly higher data rates.
Cons: 4G/LTE is more expensive than 2G and 3G, so may not be right for applications where cost is a major concern.
Bliley Technologies is a worldwide leader in the design and manufacturing of low phase noise frequency control products. Privately owned and operated since 1930, Bliley Technology has been a stable source of quality frequency control products for over 85 years. Bliley researches and develops technologies that are the most innovative, highest quality, and the most robust designs offered within the industry.
Contact us to learn how Bliley can help with your IoT connectivity needs!