There's nothing more frustrating than spending hours searching for componments on various vendor and distributor sites.
We've all been there... maybe your an RF engineer who just completed a gruelling design review only to find that IC you chose is no longer stocked at your go to RF component distributor. Or maybe you're a commodity manager that has to go source the parts, only to find many of them are no longer stocked at your preferred vendor.
Searching distributor and component vendor's websites for specific electronic components is slow and mind-numbingly boring. Not to mention it keeps you from the more valuable work you could be doing like improving in-flight Wi-Fi bandwidth or reducing power consumption on your LEO cubesat.
Luckily for us, the innovation-enabling ninjas over at SupplyFrame.com have come to our rescue with thier single purpose site FindChips.com!
FindChips.com is like Google for RF and Microwave components!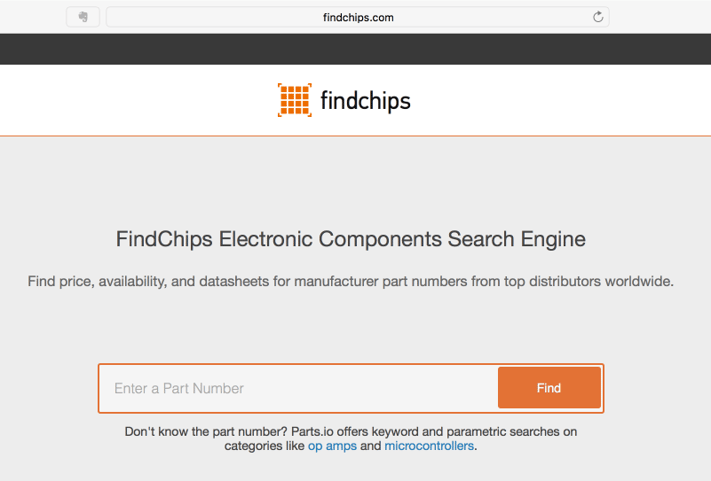 Find price, availability, and datasheets for manufacturer part numbers from top distributors worldwide.
The site presents a simple and familar search engine UI where a user types a part number or part description. FindChips then goes out and sources hundreds of vendors and distributors returning pricing information, availability and lead times, even links to product datasheets!
This makes finding parts that meet the design requirements AND are also in stock a breeze! And it all falls in line quite nicely with SupplyFrames vision of accelerating hardware innovation.
It's an exciting time for electronics. A whole new wave of innovation.
And it's changing everything. How products are designed, engineered and built.
From DIY to rocket ships.

Our mission is to deliver the best information, tools and technology to make it happen.
So the next time you're selecting the components for your next design, do yourself a favor and run your parts through this simple and extremely useful tool!