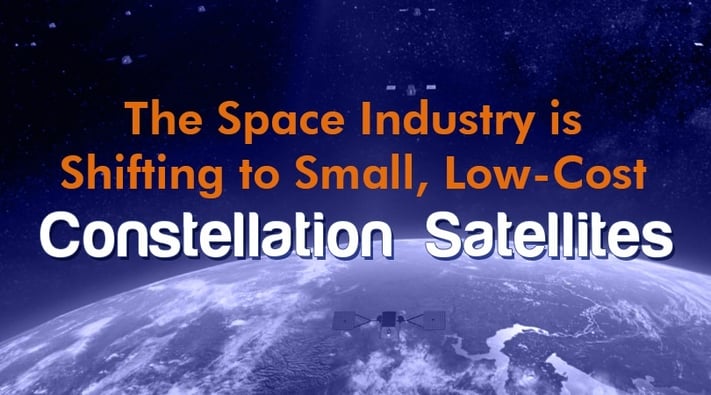 The age of space exploration and exploitation is about to enter an exciting new chapter. Once the sole domain of superpower government agencies, there are now over 800 private companies operating in space, as well as many more governments around the world. Innovations in launch technology have made it cheaper than ever to send payloads into orbit, and more parties are active in space than ever before. It's led to significant changes in the space industry. One of the most important changes is the increased use of smaller constellation satellites.
A Huge Opportunity in Years to Come
Some people might be thinking "okay, they're making tiny satellites these days, what's the big deal?" It would be a mistake to be dismissive about this new trend in the space industry. Smaller constellation satellites are actually a really big deal, and companies that invest early will have a huge advantage in the years to come.
Building a network of constellation satellites was once an enormously expensive and difficult undertaking. The first satellites tended to be very big and heavy, and each component was specifically designed for that individual satellite and whatever application it was intended for. This is similar to how the earliest computers were enormous, immobile machines that would take up the whole floor of a building. Over the decades, however, computer technology and design improved to the point where now computers are much smaller, more powerful, and cheap enough that almost anyone can afford to own one.
In a similar way, satellite design has become more advanced. Parts can now be standardized, and equipment is much smaller and more sophisticated than ever before. Because satellites can be made much smaller and lighter, they are also much cheaper to launch into orbit. Combine this with the previously mentioned advances in launch technology, as well as quantum leaps in RF engineering tech, and you have a perfect recipe for a new golden era of business and exploration in space.
"Watch Where You Pick Your Nose"
It is now possible for businesses, agencies and other entities to design, build and launch their own constellation satellites. With these new "smallsat" networks it will soon be easier for everything from Fortune 500 companies to much smaller organizations with lower budgets to use space in ways previously unimagined.
One example is Planet, Inc (formally Planet Labs) which has designed a network of tiny, cube-shaped constellation satellites that would provide the high-quality images of the earth's surface available for private sector use. Planet, Inc made headlines this year by acquiring its competitor Terra Bella from Google, and now has their 7 high-resolution satellites to complement their existing constellation of 60 small cube satellites. Afterward, they launched an additional 88 small satellites into orbit— the largest fleet ever launched at one time.
Individually, these shoebox-sized constellation satellites may not seem like much, but they will allow every inch of the world's surface to be photographed, every day.
Yes, we agree...kind of creepy. Watch where you pick your nose, it may be on camera!
More seriously, this means companies can now have near-real time surveillance of assets around the world. Imagine all the possibilities!
It's not just photographic abilities that have everyone excited. There is a new space race underway to provide, cheap, high-speed wireless internet to every corner of the globe, and small satellites are the building blocks of this competition. SpaceX is still planning to launch its colossal 4000+ satellite constellation that will beam WIFI down to customers on the surface. Also, OneWeb's constellation of 648 mini satellites is due to launch in 2018.
We are on the cusp of a revolution in space-based internet and high-end earth imaging systems. These two forces will have an enormous impact on applications including:
Market intelligence
Weather tracking
Surveillance and communication
Much more!
This will all be possible through the use of small constellation satellites.
Still have questions about these LEO satellite constellations? You're not alone...it's a fairly new topc. Check out these 5 FAQ About New Space LEO Satellite Constellations.
We Solve The Problem
The new era of space utilization is here, and it's Bliley's job to make sure you're ready to compete in the Space 2.0 economy. Our new Iris OCXO product line is the perfect fit for those looking to launch their own high-performing small satellites into low earth orbit. The Iris series offers small size with superior performance and phase noise stability— while still being the most affordable OCXO for space applications on the market.
The space industry is still in its infancy, but it's growing fast. Find out more about Iris and get an edge while there's still time.