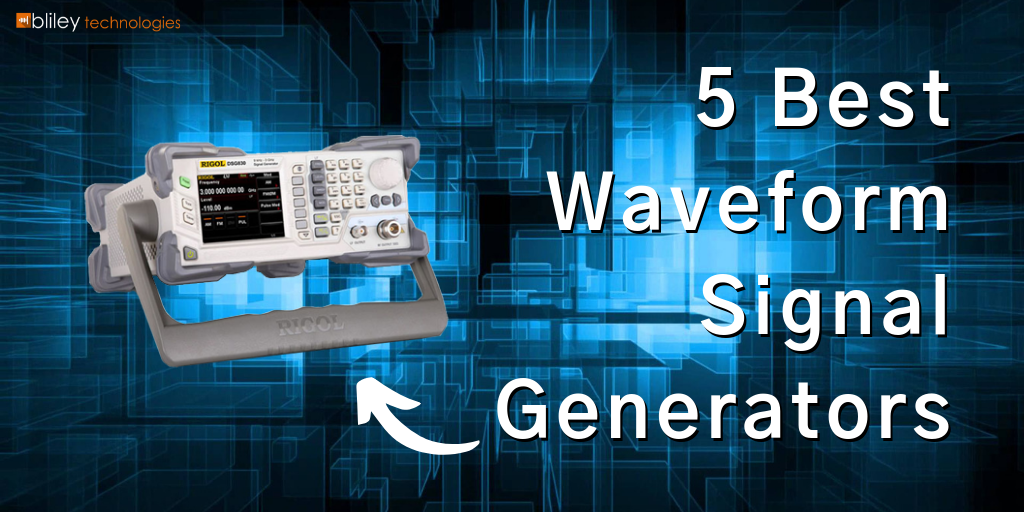 I have a feeling you're in need of some new test equipment... a new signal generator to be exact. If so, you've come to the right place. Maybe your current signal generator is outdated. Or maybe you're looking for your first one (in which case we'd be honored).
No matter the reason, we wanted to share with you the best selection of waveform signal generators on the market today to help you make the best purchase based on your needs.
By the way, we've also done similar posts on our favorite
Consider checking them out if you're interested!
Anyway... let's get on with the 5 best signal generators.
*This post contains affiliate links at no additional cost to you. Bliley will receive a small commission for every item sold.
5 Top-Rated Signal Generators for your Electronics Lab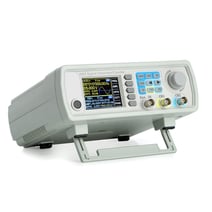 The Koolertron Signal Generator offers high frequency precision of up to 20ppm x 10-6 orders of magnitude.
It also has a 0.01uHz frequency resolution with a minimum amplitude resolution up to 1mV. The frequency measurement range is 1Hz-100MHz.
A cool thing about this waveform generator is that it adopts a large scale FPGA integrated circuit and high-speed MCU microprocessor. The internal circuit adopts the active crystal oscillator as the benchmark. This helps to significantly strengthen the frequency stability.
Lastly, other key features include linear sweep (Max. up to 999.9s) and logarithmic frequency sweep functions.
A great signal generator for the affordable price!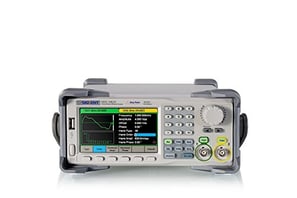 This Siglent Waveform Signal Generator is one of the favorites among experienced electrical/electronic/RF engineers. It provides great quality along with many great features.
This is a dual-channel signal generator with bandwidth up to 60 MHz and amplitude up to 20 Vpp. It has a150 MSa/s sampling rate, a 14-bit vertical resolution, and a 16 kpts waveform length.
The SDG1032X comes with "EasyPulse" technology that's capable of generating lower jitter/phase noise waveforms. This brings a wide range and extremely high precision in pulse width and rise/fall time adjustment. It can even generate square waves up to 60 MHz with jitter less than 300 ps +0.05 ppm of period. The low distortion output includes a 0 dBm output and the THD (Total Harmonic Distortion) is less than 0.075%.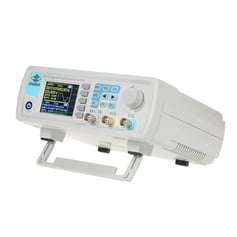 This KKmoon signal generator is a great basic, inexpensive option.
This function generator is the perfect combination of high usability, excellent technical parameters and multiple functions in generating signal, scanning waveform, measuring parameters and use aspects.
It has dual-channel signal output with a minimum frequency resolution of 0.01uHz and a waveform resolution of 14 bits. The frequency accuracy is up to x10-6 magnitude. A signal output amplitude of 0Vpp~20Vpp is achieved. Using its "DDS direct digital synthesis" technology to generate precise, stable and low distortion output signal.
With the arbitrary wave editing function users can edit arbitrary wave on a PC and then download to output from the instrument. With the communication function the PC can be used to control the instrument.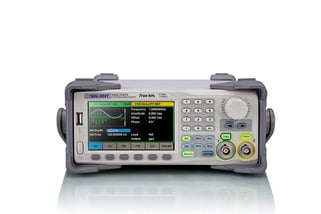 Similar to the Siglent SDG1032X listed above, this 40MHz version also includes premium quality and features.
This dual channel signal generator offers a 40 MHz (sine wave) touch screen display with a 16 bit vertical resolution Modulation/Sweep/Burst.
This device comes with innovative "EasyPulse Technology". When a Square/Pulse waveform is generated by DDS, there will be a one-clock-jitter if the sampling rate is not an integer-related multiple of the output frequency. This EasyPulse technology successfully overcomes this weakness in DDS designs and helps to produce low jitter Square/Pulse waveforms.
Additionally, TrueArb generates arbitrary waveforms point by point. This makes sure it never skips any point so it can reconstruct all the details of the defined waveform.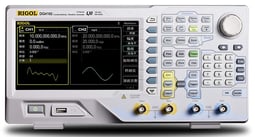 This list wouldn't be complete without a big, bad 100 MHz maximum signal generator. This 100 MHz maximum waveform function generator includes a 7' full color graphical front panel display with LAN and USB interfaces. Users of this device have said that is has very accurate frequency output and that the waveform DC offset is easier to set than most other waveform generators.
The Rigol DG4102 also has a 500 MSa/s sample rate and 14 bits vertical resolution