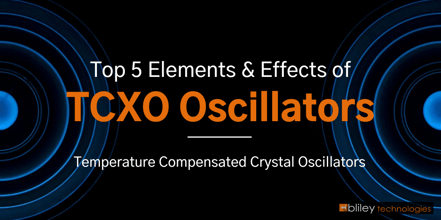 The most common types of crystal oscillators in the world of electrical & RF engineering include OCXO, VCXO, clock oscillators, and (you guessed it) TCXO oscillators. If you're reading this post, you must want to learn more about temperature compensated crystal oscillators (TCXO). Let's dive in and learn the basics of TCXO oscillators.
Introducing the TCXO (Temperature Compensated Crystal Oscillator)
The TCXO, Temperature Compensated Crystal Oscillator (Xtal oscillator), is a form of crystal oscillator used where a precision frequency source is required within a small space and at a reasonable cost.
By applying temperature compensation within the quartz crystal oscillator module, it is possible to considerably improve on the basic performance of the crystal.
In view of their usefulness, a wide range is available from many suppliers in a whole variety of packages and mounts (surface, through-hole). Some TCXOs are compatible with the dual in line format used for many through hole mounted integrated circuits.